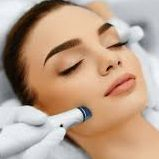 Microdermabrasion
Microdermabrasion is a technique of mechanical exfoliation which removes the outer layer of dead skin cells from the epidermis. It is a perfect treatment for improving the appearance of hyperpigmentation, uneven granular skin, superficial acne, scars, fine lines, stretch marks and more.  Treatments include a soothing mask and massage of the hands.
 Crystal particles along with vacuum suction gently polish the skin, removing damaged cells. Positive and visible results are immediate and this treatment provides an extreme exfoliation leaving the skin's texture feeling smooth and refreshed.
Face:   $50
Body:  $30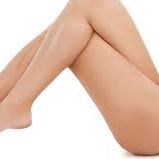 Electrolysis
Electrolysis is a method of permanently removing individual hairs from the face or body. It  destroys the dermal papilla with chemical and heat energy.  A very fine probe is inserted into the hair follicle and then the hair is removed with tweezers.
Most areas of the body can be safely treated with electrolysis.
$1.50 per minute, 10 min minimum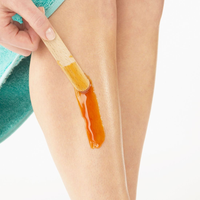 Waxing
A method of hair removal using either hard wax or strip wax.
Face and body waxing available.
Brow $12   
Upper Lip $10
Underarms $20
Chest $40
Back $40
1/2 Arm $20        
Full Arm $40       
Upper Leg $40
Bikini $25
Lower Leg $35       
Full Leg $60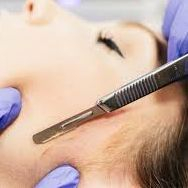 Dermaplaning
This method of exfoliation uses a 10 gauge scalpel which allows for a gentle scraping of the top layer of dead skin cells and vellus hair, (also known as "peach fuzz") .  A smoother and brighter complexion is revealed which also makes for a flawless canvas for makeup. This procedure is painless and actually quite relaxing!  You'll immediately look more radiant with a more even skin tone and texture.  All of your peach fuzz will be gone, which is why first-timers say their skin has never felt so soft before. 
Single treatment   $49
Package of 3   $130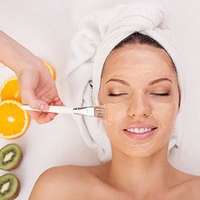 Chemical Exfoliation
A chemical peel is a gentle skin-resurfacing procedure in which a chemical solution is applied to the skin to slough away the top layers. The skin that regenerates after a chemical peel is smoother and more youthful looking.
Chemical peels are used to treat fine lines, acne, hyperpigmentation and scarring. A series of peels scheduled two to three weeks apart can also strengthen the skin.
Chemical peels work on the top layer of the skin or epidermis, loosening the 'bond' that holds the dead skin cells together. With the sloughing process, any unwanted pigment is shed and healthy new cells are stimulated to grow. New collagen fibers in the underlying dermis are created, causing the skin to feel firmer. The results are softer, smoother and more youthful looking skin.
Single treatment $65
Series of 4 $220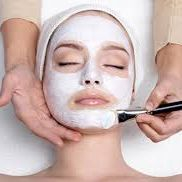 Facials
Leave feeling relaxed and refreshed with a customized  facial using the right  products for your skin type.
The Salon Facial includes cleansing, toning, exfoliation, and facial moisturizer with massage.  
The Botinol Facial - Soothing and hydrating.  Botox like without the syringe!
The Collagen 90 Facial - Corrective anti-aging, anti-wrinkle treatment.
The Hydrolifting Facial - lifting & firming treatment
The Algo Mask Facial - Soothing & hydrating. For dehydrated, sensitive skin and rosacea
The Oxygenating Facial - Detoxifying, purifying and revitalizing. For oily & acne prone skin
Ranging from $65- $115
Back Facial   $60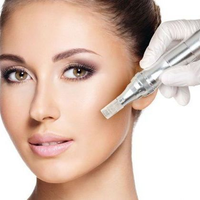 Derma Needling
Also known as CIT,  (Collagen Induction Therapy), derma needling is a minimally-invasive skin rejuvenation treatment designed to improve the appearance of fine lines and wrinkles, scars  and areas of hyper-pigmentation.  It also allows topical products to penetrate easier and to work more efficiently and effectively.  In short it is the permanent remodeling of the skin!
A numbing product is first applied to the skin so the treatment isn't painful.  The skin may feel similar to having a sunburn or windburn immediately post treatment which is entirely normal.  For best results the suggested plan is for 4-6  treatments,  6 weeks apart.
Single treatment   $150
Package of 3    $350
Add neck & decollete  $50 - $75
Featured Product Lines:
We work with GM Collin and Dermalogica - both dermaceutical brands which deliver great results.  Retail items are available for purchase!